Welcome:
And so we gather at the table.
We come from many places,
differing in age, differing in race,
differing in orientation, politics and even religion.
As we come together around the table
we discover that our differences are not something we tolerate
but that our differences are indeed a blessing,
the more difference we bring, the more fully we experience
the presence of the sacred in our midst.
So come, children of God, just as you are.
Wherever you are on this journey of life, you are welcome here,
here in this place, here in this community, here at this table.
Come, children of God, come and remember with us.
Remembrance:
We remember the stories that Jesus friends tell,
stories of bread broken and shared, feeding a multitude,
stories of being gathered together, enemy and friend, around tables,
stories of unlikely guests revealing the face of the sacred.

They say that that
it was on a night of both celebration and betrayal
that he took the bread leftover on the table,
blessed it and broke it;
reminding them that it is
in the breaking that we become whole,
in losing our lives that we find them,
in serving that we are served.
As the grain scattered becomes one in the loaf,
when we eat this bread, we become one with one another.

They say that he took the cup also leftover on the table,
poured out and sharing,
remembering with them, the life-giving breath
even now pounding a rhythm through our veins,
the breath of life from whence we come
the breath that precedes and follows all that we can see
As the grapes find life in the vine,
when we drink this cup,
we become at one with the source of life itself.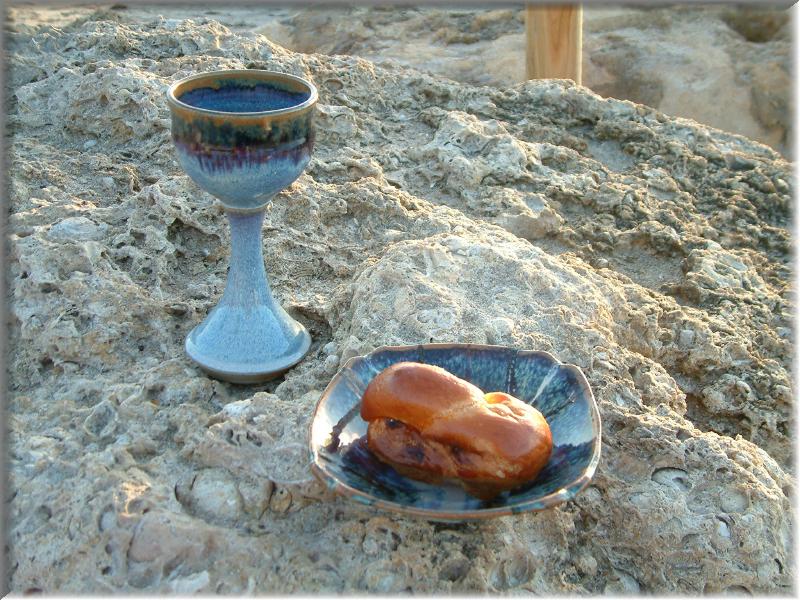 Blessing:
And so we pray:
Come, holy Spirit, come.
Bless this bread and
bless this fruit of the vine.
Bless all of us in our eating and drinking that our eyes might be open,
that we might recognize the risen Christ in our midst,
indeed in one another.
Come, holy Spirit, come.
Easter 2011